Bradley E. Ibach // Associate Attorney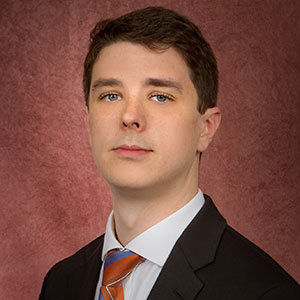 PROFESSIONAL EXPERIENCE
Bradley E. Ibach provides professional legal representation to the same Southwest Florida community where he was born and raised. Mr. Ibach started working in the legal field as a file clerk in Fort Myers–before he even graduated with his International Baccalaureate Diploma from Fort Myers High School.
While in law school, Mr. Ibach pursued a wide range of challenging topics while actively engaging in the community he would later serve. He was twice accepted as a judicial intern for 20th Judicial Circuit, where he worked alongside numerous Lee County Judges. Additionally, he was accepted and served as a Certified Legal Intern for the State Attorney's Office for the Eighth Judicial Circuit in Gainesville, Florida.
Upon being admitted to the Florida Bar, Mr. Ibach began his legal career working as an Associate Attorney for John Webb Legal Group, P.L. where Mr. Ibach is dedicated to providing our community with the sort of professionalism and individual representation that can only be achieved by a local firm who can cater to the unique needs of the residents of Southwest Florida.
In practice, Mr. Ibach litigates cases in Florida state courts, and provides professional legal representation in matters pertaining to Commercial & Civil Litigation, Construction Law, Real Estate Law and in Landlord-Tenant disputes.
EDUCATION
University of Florida Levin College of Law, Juris Doctor (J.D.)
University of Florida, Bachelor of Arts (B.A.) in Criminology, Bachelor of Arts (B.A.) in English
PROFESSIONAL AFFILIATIONS
Mr. Ibach is a member in good standing of the Florida Bar.  In addition, Mr. Ibach is a member of the Lee County Bar Association and the Edison Pageant of Light.